French Onion Soup
Adapted from Julia Child
What you need

4 pats butter
1 tbspn olive oil
1 onion (medium-large)
1/2 tspn salt
1/2 tspn sugar
1 tbspn flour
2 cups beef bouillon
1/3 cup red wine
1/4 lb grated cheese
2 slices good bread
aluminum foil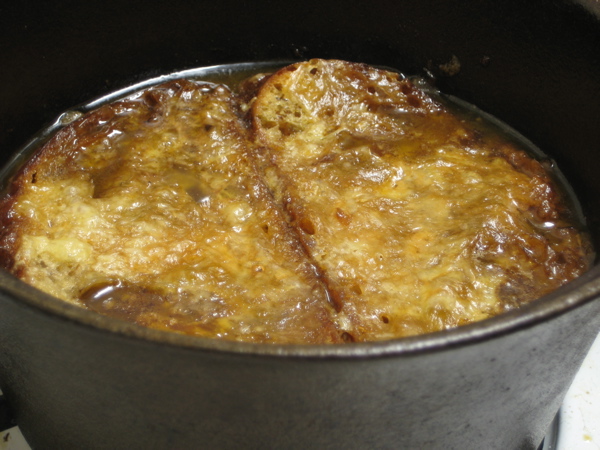 How to do it

Pre-heat oven to 325. Slice onions into thin 1/4 rings. Melt butter and olive oil in pot. Add the sliced onions, and stir until coated in butter. Cover and cook on medium/low heat 15 minutes, stirring periodically (every 3 minutes or so).

In the meantime, brush olive oil on bread slices, cook on one side on aluminum foil sheet in oven for 15 minutes.

Stir salt and sugar into onions. Raise heat to medium/high, cook 10 minutes, stirring frequently. At this point, flip bread in oven to other side, let cook 15 minutes.

In the meantime, grate cheese, heat bouillon. After about 10 minutes of cooking onions, stir in flour. Stir for another minute. Add bouillon in parts, stirring. Add wine. Stir. Let simmer until bread is done.

Take bread out of oven, turn up to 350. Cover top of soup with grated cheese. Put bread on top of that. Sprinkle cheese on bread. Put in oven, let cook 15 - 20 minutes.

This is enough for one hungry person, or two people who are also eating a salad or something.